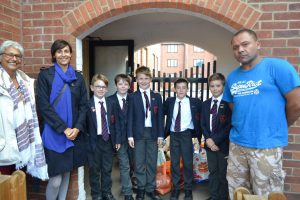 October 2017, we were delighted to find out Rushmoor School and St Andrews School in Bedford chose Akaal Seva Langar Project to donate food from there Harvest festival. Our volunteers invited and attended the Harvest Festival Assembly at Rushmoor School in Bedford as representatives of Akaal Seva because the school had very kindly chosen to donate the food they'd collected to one of our initiatives The Bedford Langar Project (the FREE Cury Night we hold).
We were treated to an absolutely amazing assembly with fantastic songs, poems and talks about the importance of sharing food with those less fortunate than us.
It really was an amazing experience and we got to speak about the work we do. But most importantly we got to thank all the children, staff and parents for their kind support. The donations will be used to make curries but also will help with our food shopping parcels that we've been providing to families that are in desperate need. A huge thank you to all the children, staff, parents and supporters for such an amazing gesture. It's so heartening to see such young children wanting to help others.