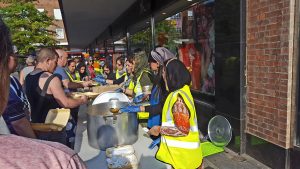 The Bedford Langar project is providing hot authentic Punjabi Curry meals for the Homeless, families, individuals and those in need. The project is inspired by the Sikh concept of Langar or Free Communal Kitchen which is present in every Sikh Gurdwara and is open to all regardless of race, religion, gender or social standing to sit and enjoy a free meal.
All the cooking is done by volunteers as is the serving of the food and the community all donate ingredients for making the meal.
Akaal Seva members decided it was time to take such an amazing charitable concept like Langar into the wider community.
All ingredients are donated by the Bedford community and the food is prepared at the Guru Nanak Gurdwara in Queens Park or Guru Gobind Singh Gurdwara Kempston by volunteers. and then taken into town to be served in Church Square (Affectionately known as Pigeon Square and is round the back of the Bus Stop). The project is set up to run on the first Sunday of every month and all are welcome to partake of the food served. In keeping with another Sikh concept called Seva (Selfless Service To Mankind) all volunteers are unpaid and no preaching or conversion is allowed. The Whole concept is about providing a meal with no hidden agenda. If a client asks a question about Sikhism or Sikhs then a volunteer will answer otherwise its all about the Langar.
Food can be eaten there or they will provide a takeaway service for those that wish to eat at home. Serving starts at 6pm and continues till around 7:15pm.
If you would like to donate find out about the project and or volunteering opportunities please feel free to call The Bedford |Langar Project directly on 07539 19987